After clearing customs I took the train to London Bridge. A guy from Poland sitting next to me was also heading there. He had only started learning English three months ago and seemed to be keen to travel with a native speaker so we agreed to go there together.
Greer met us at London Bridge Station and we went in search for hotels for our Polish friend. We decided that 250 pounds/night was a bit pricey and since all of the seven YHA hostels were fully booked for the night, Greer kindly said he could stay with us at her flat. He was exceedingly grateful.
We headed back to meet Kristyn and Cass outside the crowded London Bridge Station. Back to Greer's flat and then out to a pub for dinner. It was so good to see some Kiwi friends again even if they did mock my ridiculous ankle breezing trousers.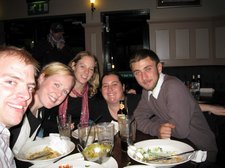 Above: Cris, Kristyn, Cass, Greer, and Damin eating out at a pub. It was nice to catch up with some Kiwi friends again.