Oli arrived last night all the way from Mannheim. He's visiting for a few days. I tried snow boarding with him at Nebelhorn this morning but it wasn't long before my backside convinced me to go back to skis.
In the evening we went climbing with Frauke and her friends at the wall.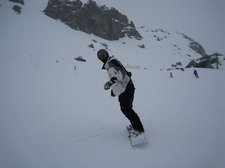 Above: Oli boarding at Nebelhorn.