We've had an amusing day of flitting between countries today. The morning began with a 3:50 am start from Chris and Emily's flat. Unfortunately Chris + Em's estimate of how long it would take to walk to the bus stop was way-off. So we spent 20 minutes running through the rain with our heavy packs arriving at the bus stop with 5 minutes to spare. An hour later the bus dropped us at the airport and we left by Norwegian Air for London, Stansted. The border control were displeased by the lack of stamp in my passport to say that I had left Norway. But that's the job of the border control, to be displeased, isn't it?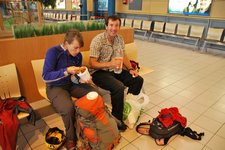 We had a spot of bother leaving London also. We had packed a delicious feast of last night's pasta and chocolate pudding into plastic containers. and placed these in a couple of shopping bags. We added a few bits and pieces and seasoned with vegetables. Unfortunately the border control wanted to investigate our feast. They were amused by what they found. However, the woman behind us in the line was clearly horrified. She recoiled in disgust as last night's pasta was revealed and looked visibly sick as our chocolate self saucing pudding was revealed in all its poo-brown glory.
We spent a good while moaning about Ryanair and how bad they are. Chris and Emily despise them and their tricksy ways. They sell you cheap tickets and then catch you with all sorts of little fees that you don't realise when you book the ticket. The following photo amuses me…
We landed in Tolmezzo, Italy and were greeted by a wave of heat. It was toasty alright. Much warmer than Norway had been. We took a bus to the train station and a train to near the Slovenian border. We then had half an hour to cross the border and catch a train on the other side. It seemed unlikely that we'd manage this but by fluke we left the train station, got on the first bus we saw which took as across the border, we saw a train station, got off and discovered that our train was arriving in four minutes time.
I began jibbering about how beautiful Slovenia is and how I like the forests, and the semi-run-down houses. We salivated at the sight of rows of peach trees laden with ripe peaches. The train rumbled. We swapped trains and headed towards Logatec. Somehow we had decimated our food supply during the day and we began imagining horrific scenarios involving us turning up in the dark, finding that everything was closed and having to spend a grovely night camping in a bog (probably full of ticks). None of this happened and instead we found a pizza restaurant near the train station and stuffed ourselves with pizza and beer. Delicious. We then spent an hour or so trying to find the registration for the event arriving just before it closed. Someone gave us a lift to our campsite and we retired about midnight.