I headed down to the lake and swam before the others got up. Quite cold but nice. Due to us being disorganised, Chris had to hitch down to town to get some more food for tramping as we did not have enough lunch food. Unfortunately, he returned with a bunch of random items (including coconut fat) and little in the way of lunch food.
Above: The lake and the lads. Cris stalking fish.
We were all sorted about lunch time and headed off towards the base of the huge cliffs surrounding the lake. Our packs felt very heavy as we climbed steeply up a narrow track that ascended through the cliffs. We passed many people coming down and I think they were amused by us straining and sweating. It didn't help that it was very hot by this time.
Above: Climbing through the cliffs.
Shortly after reaching the top of the main line of cliffs, a thunder storm arrived and we spent the next hour or so walking in warm rain. This appeared to have caught a few people out as there were people hiding under trees. We spotted a family without any wet weather gear sheltering under a rock.
As the hut cost 18 Euro per night we cunningly avoided staying in it. Instead we veered off the track and trekked across lime stone rocks with treacherous holes ready to sprain unsuspecting ankles. Chris found a number of flattish grassy spots and we pitched our tents for the night. We cooked near our tents on a band of rock. Emily had deep emotional issues with the dinner. The problem was that Chris had purchased a large block of coconut fat thinking that it was coconut milk. Also, our major seasoning was far too much cumin and chili powder. This combined with coconut fat caused her much distress. To be honest, we didn't think it was too flash either.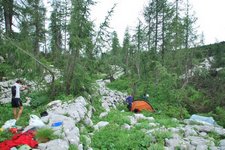 Above: Camping amongst the jagged rocks.
[gmap lat='46.32533′ lon='13.777386′]