Hiking for European readers.
Chris and I went thrashing through the forest this morning. I puffed along behind Chris while he did the Open 2 course from the fourth stage. I took a break along the way and ran with him again on the way back to the finish. Sweaty sweaty. Another hot day.
We took the bus to the capital, Ljubljana, about midday and then a train to Jesenice. Half way the train broke down and we were told we had a 100 minute wait. Chris and I went off to purchase some food for tea until Emily rang us to say something about moving bags. I kept buying food and Chris came back a few minutes later to say that apparently the train was going again. We sprinted back towards the waiting train, lettuce and tomatoes bouncing.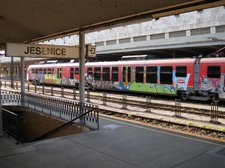 Above: Jesenice train station
From Jesenice we took another train to Bohinjska Bistrica. We messed around at the train station trying to work out how to get up to the lake until a friendly Slovenian dude gave us a lift up there in his car. We've been so impressed with the generosity of the people here. As we arrived at the lake I realised that I've been here before three years ago cycle touring with Gina. Funny, I didn't think I'd be back again. The camp ground was full of people and over priced so we headed up into the forest and camped amongst the leaves. Unfortunately, there were too many people around to use the nice camp site that Gina and I had used down by the lake. Instead, we hid near a dry river up in the forest.
Above left: Chris with his hobo bags in Bohinjska Bistrica. Above right: View from train station in Bohinjska Bistrica.
Bottom: Avoiding excessive camping fees by camping in the forest.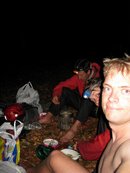 [gmap lat='46.27980′ lon='13.84021′]