Another difficult day today. Emily and I changed to Open 2 instead of Elite. This didn't help terribly much though as the navigation was still tricky. I didn't DNF this time though and finished in a snail-paced 2 hours 30 minutes.
We went to Greg Barbour's for tea. He's a kiwi orienteer who lives in Moscow. He's renting a house with his family about half an hour drive from the event start in the mountains. We took a dodgy unsealed road with plenty of switch-backs into a valley and then another dodgy road back up into the mountains to his house.
We visited a nice swimming hole in the valley in the afternoon and punted around on a little raft.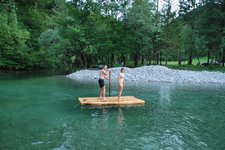 Greg laid on a BBQ feast with plenty of wine and we dined with him late into the night.